Detailed description
Pneumatic wire stripping machine, Wire Stripping Machine, Cable Wire Stripping Machines, Cable Peeling Machine
Pneumatic Cable Stripping Machine (WPM-310)
Function
1. Bevel design, according to somatology.
2. Dual-driving cylinder, no spring breakage.
3. Self-feeding oil and supply. A timely oil supply to the cylinder can decrease the abrasion of the interior cylinder and lengthen life.
4. Special sliding holder, balance stroke, and high peeling precision. Electric control, easy operation.
5. Adjustable structure, and wire thickness.
6. Suitable for short cables with small diameters, such as AC/DC, power wire, computer cable, electronic cable, and multi-core cable.

Model WPM-310
Stripping length 100mm
Wire Dia. 0-15mm
Air Pressure 0.35-0.75mpa
Voltage 220V/110V/50HZ/60HZ
Force 49-115KG
Weight 25KG
Size L480*W330*H280mm
Improve traditional computer wire stripping with a foot hand way, before evolving into a clip backward, save in the best physical models. Operation mode and move around using the plane to shorten lines, and clamp distance, so that the computer can be used for short-term lines or a special machine to complete the stripping process. Special structure, speed, power lines, and general wire, half-stripped, full stripping, easy to adjust, most new models for the wire end processing.

This machine mainly aims at currently a wire material in the middle of the craft the skinning of some special wire materials is used, such as computer multi-conductor cable, insulate wire, telephone cable, flat cable, etc, apply wire diameter AWG18-32, adoption
A cylinder with powerful double-fold force can be processed in all kinds of flat cables.

1, This machine uses air pressure operation and electromagnetism valve control.
2, Knife and clip mount distance is short, make the wire material of computer wire or special short easily handle.
3, The general transaction quasi shells, all shelling electric wire bitter end the velocity is quick.
FAQ
1. What are the wearing parts?
Blade and belt. For more spare parts info, please contact us.
2. Operation and user manual?
English and Chinese optional.
3. How long is the warranty period?
1 year, all belts, and blades without the warranty.
4. What after-sales service do you provide
Technicians' online support, and video technical support within 24 hours.
If you need local service please check with Hechang Machinery. Generally require additional charges.
XIAMEN TECHNOLOGY CO., LTD. founded in 1993, is a top supplier of wire processing machines.
We mainly focus on research and development, production and customization, and learning from Japanese and Taiwanese techniques and experience.
Our end customers always specialized in an aspect of electronics, home appliances, motor vehicles, lighting, etc.
Our clients and markets are spread almost all over china and Vietnam, Indonesia, India, Brazil, Colombia, the USA, Mexico, and Italy.
Our main products include an Auto wire cut strip crimp and tinning machine, auto cut strip and crimping machine.
Auto cutting splitting and stripping machine for ribbon cable, Heat shrink tube cutter, Cable winding and tie machine, Terminal applicators.
Easy operation, overseas after-sale service available, and high efficiency is our outstanding advantage over other competitors, which helps our users save more labor cost and enhance the production rate. Quality is our culture. Welcome to join us for a win-win situation.
We will support you all with our technical experience and service wholeheartedly.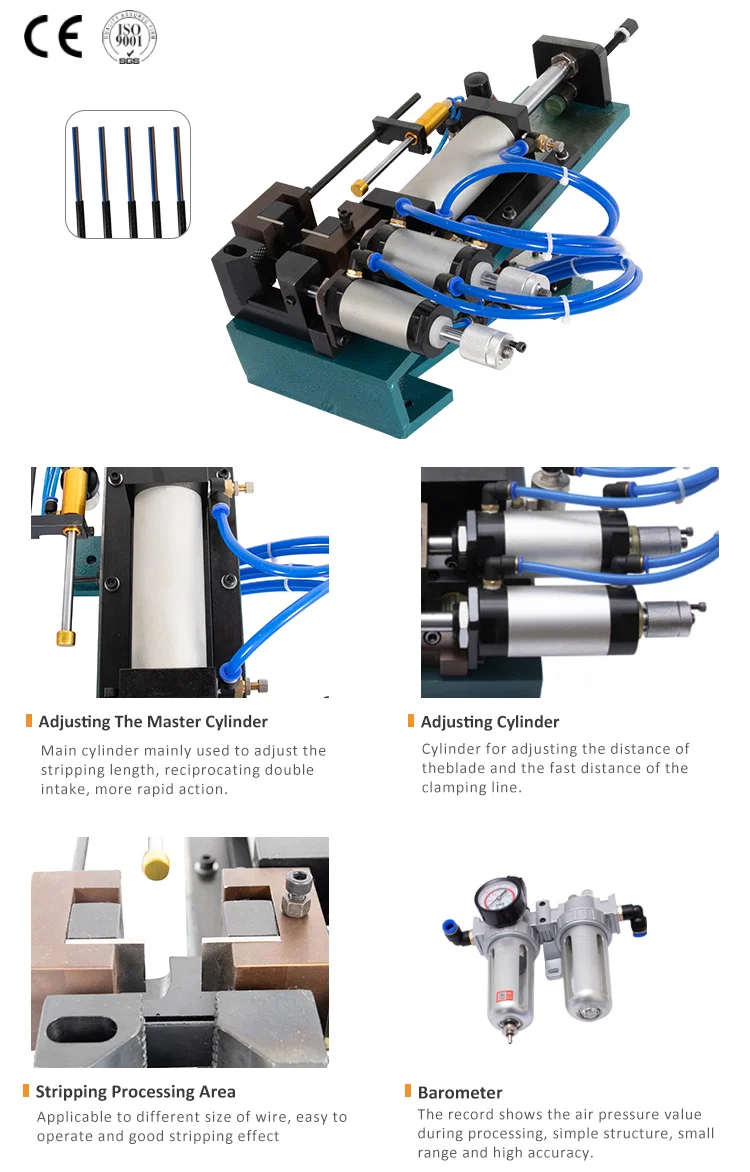 Model

WPM-305

WPM-310

WPM-315

WPM-330

WPM-416

Wire Size

1 - 5mm

1 - 10mm

1 - 15mm

1 - 20mm

1 - 30mm

Stripping Length

3 - 50mm

3 - 100mm

3 - 150mm

3 - 330mm

3 - 150mm

Cylinder Dia.

Ø40

Ø50

Ø60

Ø60

Ø80

Force

31-37Kg

49-115Kg

84-196Kg

84-196Kg

165-300Kg

Power Supply

220V

220V

220V

220V

220V

Dimension

40×30×27cm

48×33×28cm

60×42×36cm

110×55×45cm

80×62×55cm

Net. Weight

20Kg

25Kg

35Kg

65Kg

50Kg

Packing

Packed in Wood Case (Standard Export Packing)
FAQ:

1 Price terms

The price is based on EXW/FOB, if you request CFR or CIF, please give us your delivery port, and we will give you the CFR price or CIF price for reference.

2. What is your main market?

There are kinds of different clients from Asia, Africa, America, and Europe market.

3 . Could provide a professional solution based on our product?

We always promote suitable solutions based on products and satisfy clients with cost-down requirements.

4 Can we provide the sample for testing?

Yes, It will be a pleasure if u provide us with the sample for testing.

5 Do u test all goods before delivery?

Yes,100% test before shipment.

™ products are tested and guaranteed to keep in good quality with one year warranty excluding consumable parts.
If any main parts have quality problems, we will provide new parts and send them to you to change at once with detailed technical support and video illustration, or our experience engineer help to solve them. All problems and questions can be responded to within 24 hours after receiving email/phone/other chatting tools.